Описание
The Winnipeg Sun is your trusted source for local news, politics, sports and entertainment. Stay up-to-date throughout the day with breaking news in Winnipeg, Manitoba and around the world. Plus get the latest on the Winnipeg Jets and Winnipeg Blue Bombers with the best sports coverage in Canada including scores, standings, highlights and commentary.

iPhone users enjoy the latest stories and multimedia features without a subscription.

iPad users can access 10 free articles every 30 days, to sample the wide variety of breaking news and special features – plus extensive photo and video coverage. Home delivery print subscribers receive unlimited access on the iPad, included as part of their print subscription and can gain access by simply signing in with their existing account when prompted. If you're not an existing print subscriber, you can easily subscribe through iTunes.
 
Subscription Details for iPad Users
• Monthly subscription cost:  $5.99 plus applicable taxes.
• Complete the subscription in iTunes.  Payment will be charged to iTunes Account at confirmation of purchase.
• No cancellation of the current subscription is allowed during active subscription period.
• Subscription automatically renews unless auto-renew is turned off at least 24-hours before the end of the current period.
• Account will be charged for $5.99 each month within 24-hours prior to the end of the current period.
• Subscriptions may be managed and auto-renewal turned off by going to your Account Settings after purchase.
 
• Privacy policy: http://www.canada.com/aboutus/privacy.html
• Terms of use: http://www.canada.com/aboutus/termsofservice.html
 
We appreciate and value your feedback. Please send any comments, suggestions or questions to: mobilesupport@postmedia.com
---
Что нового в версии 4.0.7
ALL NEW for iPhone and iPad - a faster and smoother reading experience for your news on the go.
---
---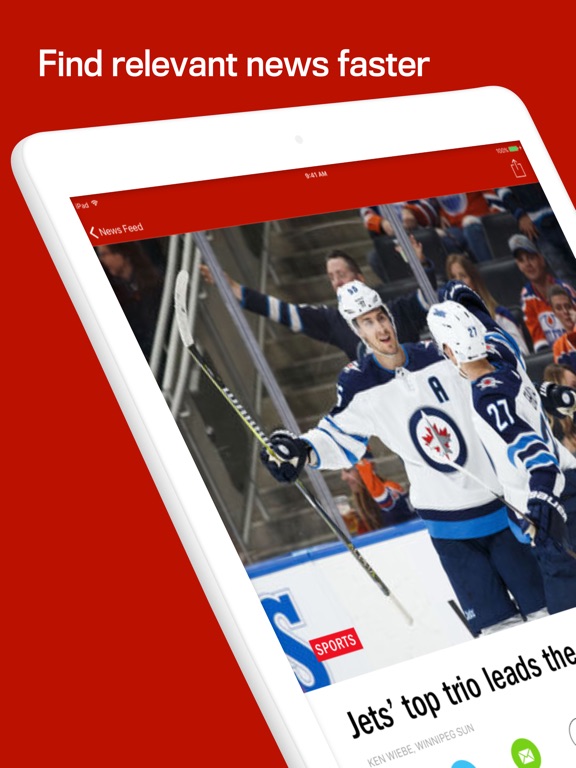 Бесплатно
Релиз: 23.10.2017
Обновлено: 24.10.2017
Версия: 4.0.7
Языки: EN
Разработчик: Postmedia Network Inc.
Возраст: 12+
Совместимость: Требуется iOS 9.0 или более поздняя версия.
Редко/умеренно встречающиеся сцены сексуального или эротического характера, Редко/умеренно встречающиеся сцены реалистичного насилия, Редко/умеренно встречающиеся материалы, предназначенные только для взрослых, Редко/умеренно встречающиеся сцены с использованием или упоминанием алкогольной и табачной продукции или наркотических средств, Редко/умеренно встречающиеся сцены мультипликационного или фэнтезийного насилия, Редко/умеренно встречающиеся сквернословие или грубый юмор
---
Оценки покупателей
Мы не получили достаточного количества оценок для этой версии, и приложение пока не имеет средней оценки.